Omron
OMRON SENSOR
OMRON Sensing Components detect, measure, analyze, and process various changes that occur on productions sites, such as changes in position, length, height, displacement, and appearance. They also contribute to predicting and preventing future events.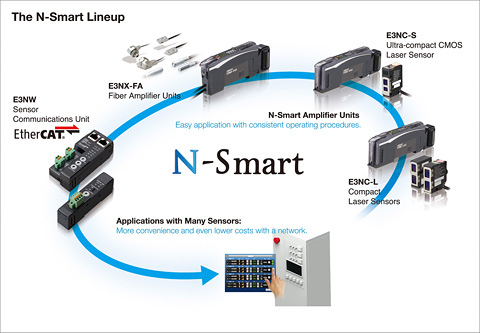 E3X-HD

Surprisingly Stable Detection with Your Finger tip. Exceptionally easy operation and stabilizing technology reduce maintenance cost.

E3X-DA-S

Stable Detection with Advanced Fiber Amplifier Units.

E3X-DA-N

The Ultimate Fiber Amplifier for Maximum Ease of Use and High Performancet.

E32-Series

OMRON's Fiber Sensors continue to support an increasing range of applications.
E3JK/E3JM

Two Models Contribute to Overall Cost Reduction.

E3Z Series

The Standard for Photoelectric Sensors with a Secure Track Record of One Million Sold Yearly.

E3F3

Threaded Cylindrical Photoelectric Sensor with Built-in Amplifier for Use as an Optical Proximity Sensor High Noise-immunity with Photo-IC Technology.

E3T

The Improved E3T Series with Easier, Smoother Mounting and Installation.
E2E

Standard Sensors for Detecting Ferrous Metals under Conditions.

E2E2

Proximity Sensor with a Long Screw Length .

E2F

Proximity Sensor with Resin Case with Superb Water Resistance.

E2K-C

Long-distance Capacitive Sensor with Adjustable Sensitivity.

TL-W

Standard Flat Sensors in Many Different Variation.

TL-N/Q

A Wealth of Models for All Types of Applications.
Global Standard Slot-type photomicrosensors with 50- to 100-mA direct switching capacity.

Slim, Compact Photomicrosensor that is still easy to use.
Variable Laser Beam for Spot, Line, or Area Detection.

Long-distance Variable Spot to Match the Application. Stable Detection with Pinpoint 0.1-mm Spot.

A Ultra-compact CMOS Laser Sensor for Stable Detection without the Influence of Workpiece Color
Wide Range of Two-circuit Switches; Select One for the Operating Environment.

Sealed, Compact, and Slim-bodied Switch Offers Choice of Many Actuators.

Economical, Miniature Limit Switch Boasting Rigid Construction.

Economical, High Utility Enclosed Switch.

Best-selling Basic Switch Boasting High Precision and Wide Variety.
Tel: 86-510-85572185
Fax: 86-510-85884818
Copyright © 2012 Wuxi dekong Co.,Ltd . All rights reserved.