| | |
| --- | --- |
| | The high-speed 500 MHz microprocessor shows superior computing capacity to enhance communication transmission, to support live graphic display and to perform complicated animations and multi-page switching. |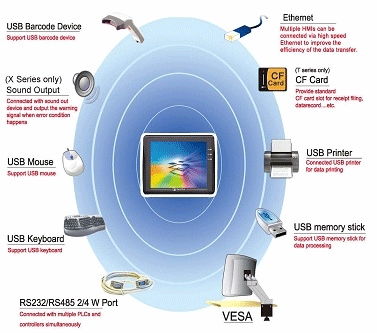 Ethernet/IP
Latest MT8000 series supports devices with Ethernet/IP protocol which makes users easier to integrate devices in networks environment and more efficient in data transferring.

32-bit CISC Processor
The EasyView8000X offers high performance features for the industrial environment. Even the most complicated graphics can be called up in a snap.

LCD Display
MT8000 support 65536[16bit] colors and provide finer and more vivid visibility Quick response in screens exchange

High Reliability Touch Panel
MT8000 perform high touch accuracy, with high hardness and long lifetime, they will conform to your need of industrial environment.

Serial Interface
Each MT8000 is equipped with 3 serial ports which can connect with 3 different PLCs/controllers simultaneously.

USB 2.0 Interface
Each MT8000X is equipped with 2 USB 2.0 interfaces which are not only for project download/upload and data storage but also for connection to printer, bar code reader, mouse and a variety of USB devices.

Serial Port
Each MT8000 i supports USB or RS232 Printers.

With X Series enhanced Ethernet function, users can use LAN / WAN configuration to build up an efficient information- exchanging network and monitor the status of each X series HMI via a remote PC.
Display:

5.6"

7"

10"

12"

15"

Model:

MT 8056T

MT 8070iH

MT 8100i

MT8121X

MT 8150 X

Brightness (cd/m2):

300 cd/m2

375 cd/m2

300 cd/m2

400 cd/m2

350 cd/m2

Contrast Ratio:

600:01:00

500:01:00

500:01:00

500:01:00

550:01:00

Color:

65536

65536

65536

65536

65536

Resolution (WXH):

320x234

800x480

800x480

800x600

1024x768

Back Light:

LED

LED

LED

CCFLx2

CCFLx2

Back Light Life Time:

30,000 hr

30,000 hr

30,000 hr

50,000 hr

50,000 hr.

Touch Panel Type:

4 wires resistive type

4 wires resistive type

4 wires resistive type

4 wires resistive type

4 wires resistive type

Storage:

128 MB Flash

128 MB Flash

128 MB Flash

256MB D.O.M

256MB D.O.M

RAM (RAM):

64 MB

64 MB

64 MB

256MB DDR 400MHz

256MB DDR 400MHz

Card Slot:

N/A

SD

SD

YES

YES

USB Host:

N/A

USB 1.1 x 1

USB 1.1 x 1

USB 2.0 Full Speed Host port x 2

USB 2.0 Full Speed Host port x 2

USB Client:

N/A

USB 2.0 x 1

USB 2.0 x 1

N/A

N/A

Ethernet Port:

10/100 Base-T

10/100 Base-T

10/100 Base-T

10/100 Base-T

10/100 Base-T

COM Port:

COM1(RS232 / RS485 2W/4W), COM3(RS485 2W)

COM1(RS232 / RS485 2W/4W),COM2(RS232) 
COM3(RS232/RS485 2W)

COM1(RS232 / RS485 2W/4W),COM2(RS232) 
COM3(RS232/RS485 2W)

COM1(RS232 / RS485 2W/4W),COM2(RS232), COM3(RS232/RS485 2w)

COM1(RS232 / RS485 2W/4W),COM2(RS232), COM3(RS232/RS485 2w)

Video Input Port:

NTSC/PAL RCA x 2 (Optional) V2 only

NTSC/PAL RCA x 2 (V2 only)

Audio:

N/A

YES

YES

Audio Line Out x 1 / Mic In x 1

Line Out x1 / MIC x1

Input Power:

24 ±20% VDC

24 ±20% VDC

24 ±20% VDC

24 ±10% VDC

24 ±10% VDC

Power Consumption:

250mA@24VDC

250mA@24VDC

300mA@24VDC

1.25A@24VDC

1.6A@24VDC

RTC:

N/A

Built-in

Built-in

Built-in

Built-in

Panel Cutout (WXH):

119X93mm

192x138mm

259x201mm

305x231mm

352x279mm

Weight (KG):

Approx 0.3kg

Approx 0.85kg

Approx 1.4kg

Approx 2.1kg

Approx. 2.9kg

Voltage Resistance:

500 VAC (1 min)

500 VAC (1 min)

500 VAC (1 min)

500 VAC (1 min)

500 VAC (1 min)

Isolation Resistance:

Exceed 50MΩ at 500 VDC

Exceed 50MΩ at 500 VDC

Exceed 50MΩ at 500 VDC

Exceed 50MΩ at 500 VDC

Exceed 50MΩ at 500 VDC

Vibration Endurance:

10 to 25 Hz (X,Y,Z direction 2G 30minutes)

10 to 25 Hz (X,Y,Z direction 2G 30minutes)

10 to 25 Hz (X,Y,Z direction 2G 30minutes)

10 to 25 Hz (X,Y,Z direction 2G 30minutes)

10 to 25 Hz (X,Y,Z direction 2G 30minutes)

Protection Structure:

IP65 front panel (O ring seal)

IP65 front panel (O ring seal)

IP65 front panel (O ring seal)

IP65 front panel (O ring seal)

IP65 front panel (O ring seal)

Storage Temperature:

-20°~60°C (-4°~140°F)

-20°~60°C (-4°~140°F)

-20°~60°C (-4°~140°F)

-20°~60°C (-4°~140°F)

-20°~60°C (-4°~140°F)

Operating Temperature:

0°~45°C (32°~113°F)

0°~45°C (32°~113°F)

0°~45°C (32°~113°F)

0°~45°C (32°~113°F)

0°~45°C (32°~113°F)

Operation Humidity:

10-90% RH (non-condense)

10-90% RH (non-condense)

10-90% RH (non-condense)

10-90% RH (non-condense)

10-90% RH (non-condense)

Ordering
MT 8056T 5.6" TFT 65536-color LCD Touch Screen HMI
MT 8070iH 7" 800x480 TFT LCD, 65536-color, Ethernet, 128MB, SD
MT 8100i 10" 800x480 TFT LCD, 65536-color,Ethernet, 128MB, SD
MT 8121X 12.1" 800x600 TFT LCD, 65536-color , Ethernet, 32MB,
MT 8150 X 15" 1024x768 XGA TFT, 65536-color , Ethernet, 256MB,