FX3G: Customized Controller
Controllable I/O: 14 - 256 points (with CC-Link remote I/O)
Main Unit I/O sizes: 14/24/40/60 points
The FX3G is an introductory compact PLC and is the newest addition to the FX3 series, designed for simple yet performance-critical applications. Incorporating innovative FX3 series technology the customer is presented with a suite of benefits.
FX3U:Special Features
Exchangeable interface modules for direct mounting into a base unit (USB, RS232, RS422, RS485)
Standard programming unit interface
Slot for memory cassettes for up to 64k steps PLC program
Integrated real-time clock
Easier programming by new commands and table configuration.
High speed processing (0.065µs perbit instruction)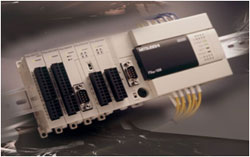 FX-3UC
The FX3UC is the new ultra-compact high speed, fully expandable PLC. Based on 24V DC power and using connector-type transistor I/O, the FX3UC is designed for space conscious and modular applications. Created inline with the FX3U series, the FX3UC incorporates such attributes as built-in high speed I/O and the dual system-bus architecture, optimizing communication, networking, analog, and positioning control.